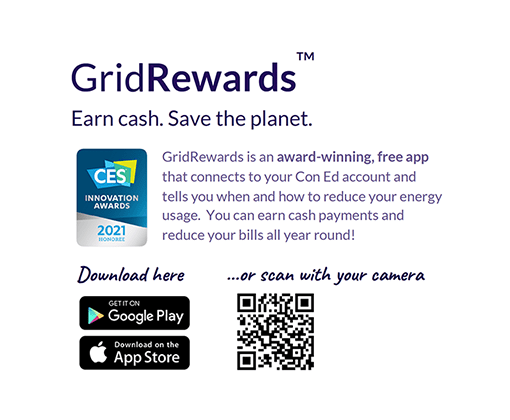 Enroll in Con Ed's Smart Usage Rewards with Logical Building's GridRewards.
Lower Your Carbon Footprint.
Save Energy. Earn Cash
Take Simple Energy Actions & Reduce Usage
Generate Savings
Respond to GridRewards Events & Earn Cash
Average households can earn over $100/year in cash
SIGN UP IN A FEW EASY STEPS
1. Download the GridRewards App: Go to the app on Google Play or App Store
If you do not have a smartphone or tablet or prefer to enroll on the computer, use this link.
2. Have your ConEd account number and online access to your ConEd account before you get going. To complete your enrollment in GridRewards your ConEd account needs to be linked.
Please email: gridrewards@logicalbuildings.com or call (908) 517-3730. This dedicated helpline can troubleshoot or walk you through the signup process.
Sign-Up Tutorial Step-by-Step
FAQ'S
Get Notified when GridRewards is available for NYSEG Customers
Are you excited about GridRewards and have NYSEG as your utility? With the upcoming upgrade to smart meters for NYSEG Customers later this fall 2023, you'll be able to participate in a demand response program.
NYSEG customers looking to be notified when GridRewards is available in your area, please fill out the form. When the Demand Response program is enabled in your utility territory, Sustainable Westchester will email you the GridRewards enrollment instructions.
How Does It Work?
1. Download the GridRewards app.
2. You reduce electricity when the app sends you an alert.
These are the most valuable times to save electricity. The GridRewards events happen on the hottest days in the summer.
Use the handy checklist to know what actions to take.
3. GridRewards sends you a check in the mail!
If you save electricity on all of the GridRewards events, you'll earn your maximum possible amount of money. GridRewards will send you a check in the mail for the amount you earned.
Where does the money come from? Participating utility companies want to incentivize customers to reduce electricity at peak demand times to avoid running old, inefficient power plants.
Who's Eligible?
GridRewards is open to most people and businesses with a ConEdison account. Residents, small to large businesses, houses of worship, clubs, nonprofit organizations, commercial accounts (any size), within Con Edison territory. Municipal buildings with NYPA accounts can also participate.
Those enrolled in the Con Edison Smart Thermostat program are ineligible for participation.
Con Edison's Smart Usage Rewards
When energy use spikes during the summer, you can get rewarded for reducing your electric use temporarily. Logical Buildings, the creator of GridRewards, is an approved aggregator with ConEd. So by participating in GridRewards, you are participating in ConEd's Smart Usage Program. See more on the ConEd website.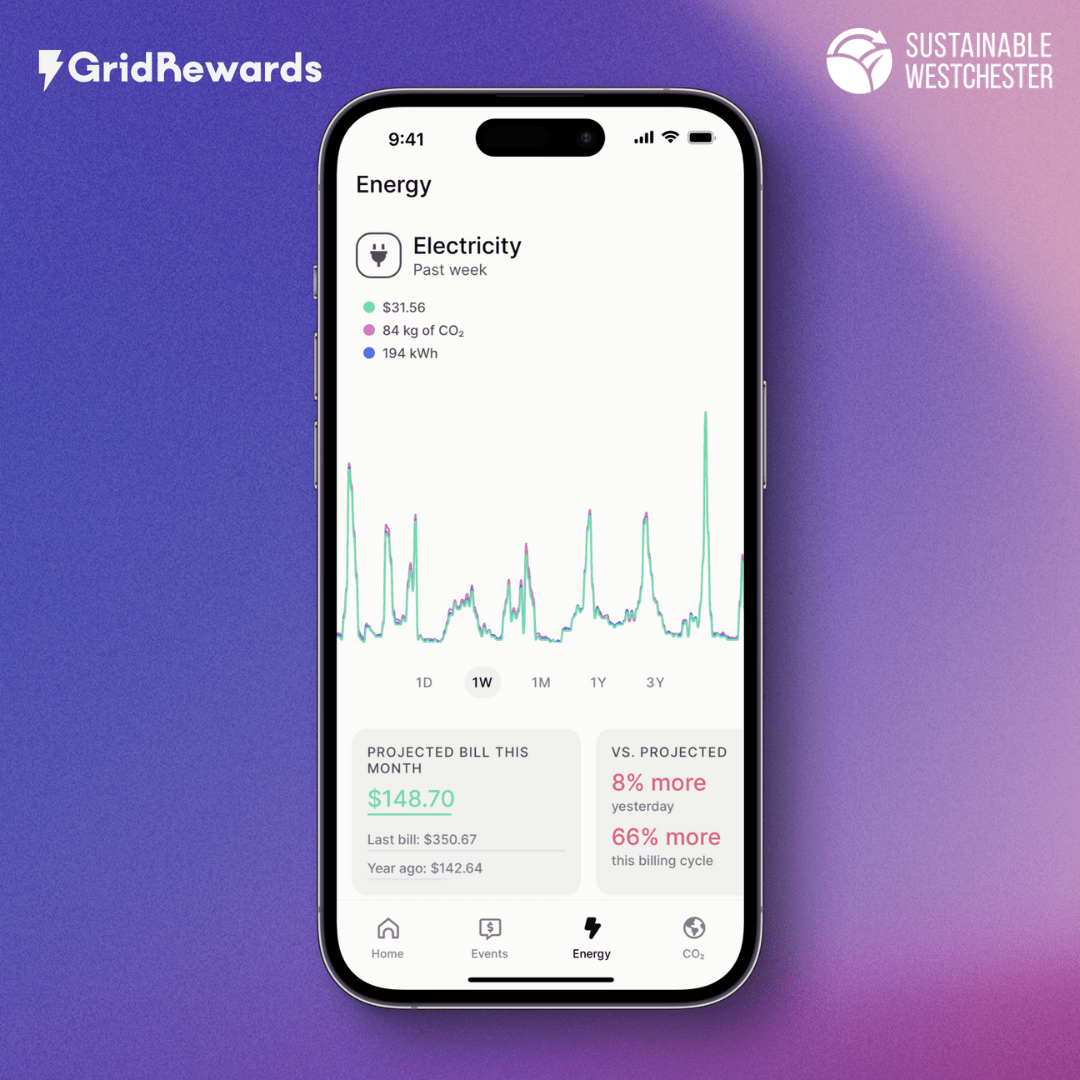 GridRewards Videos & Webinars
Get Paid to Save Energy with GridRewards
Exploring Peaker Power Plants: Inequities and Solutions
Get Paid to Reduce Energy Usage with GridRewards – March 24 Webinar Recording
CE George Latimer, Sustainable Westchester & Local Municipal Leaders Address Earth Day & GridRewards
2022 Westchester County Weekly Address Featuring GridRewards!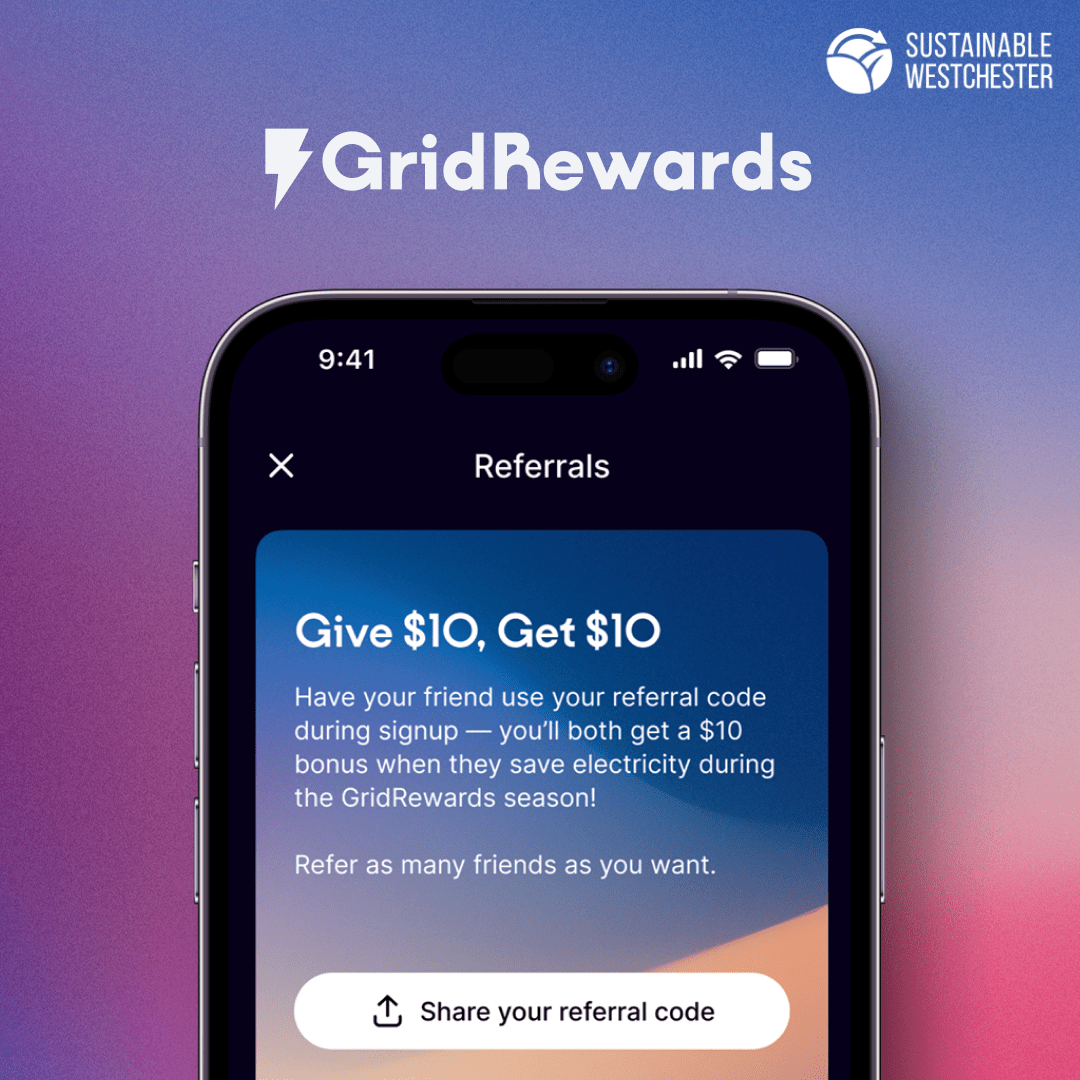 Refer A Friend
Give $10, get $10
Have your friends, neighbors and contacts use your referral code when they create an account. When they save electricity during GridRewards events, they will earn $10 and so will you. Everyone wins, including the planet!
There's no limit to how many friends you can invite. Groups looking to use GridRewards referral fee as a fundraiser for their local group, please contact Lauren@SustainableWestchester.org or materials and assistance.
Community Testimonials
Small Change Adds Up. Hear from your Westchester neighbors about their experience with GridRewards.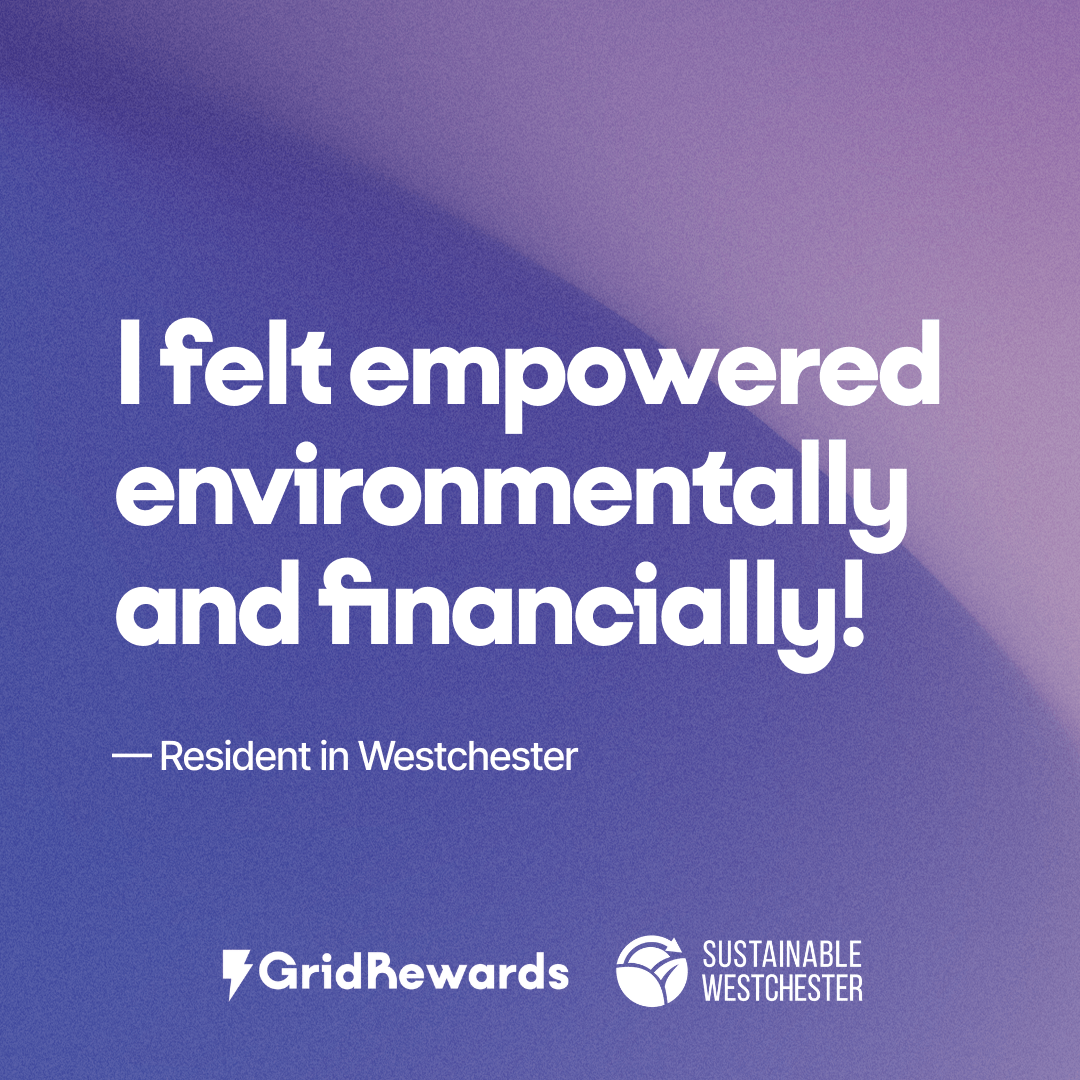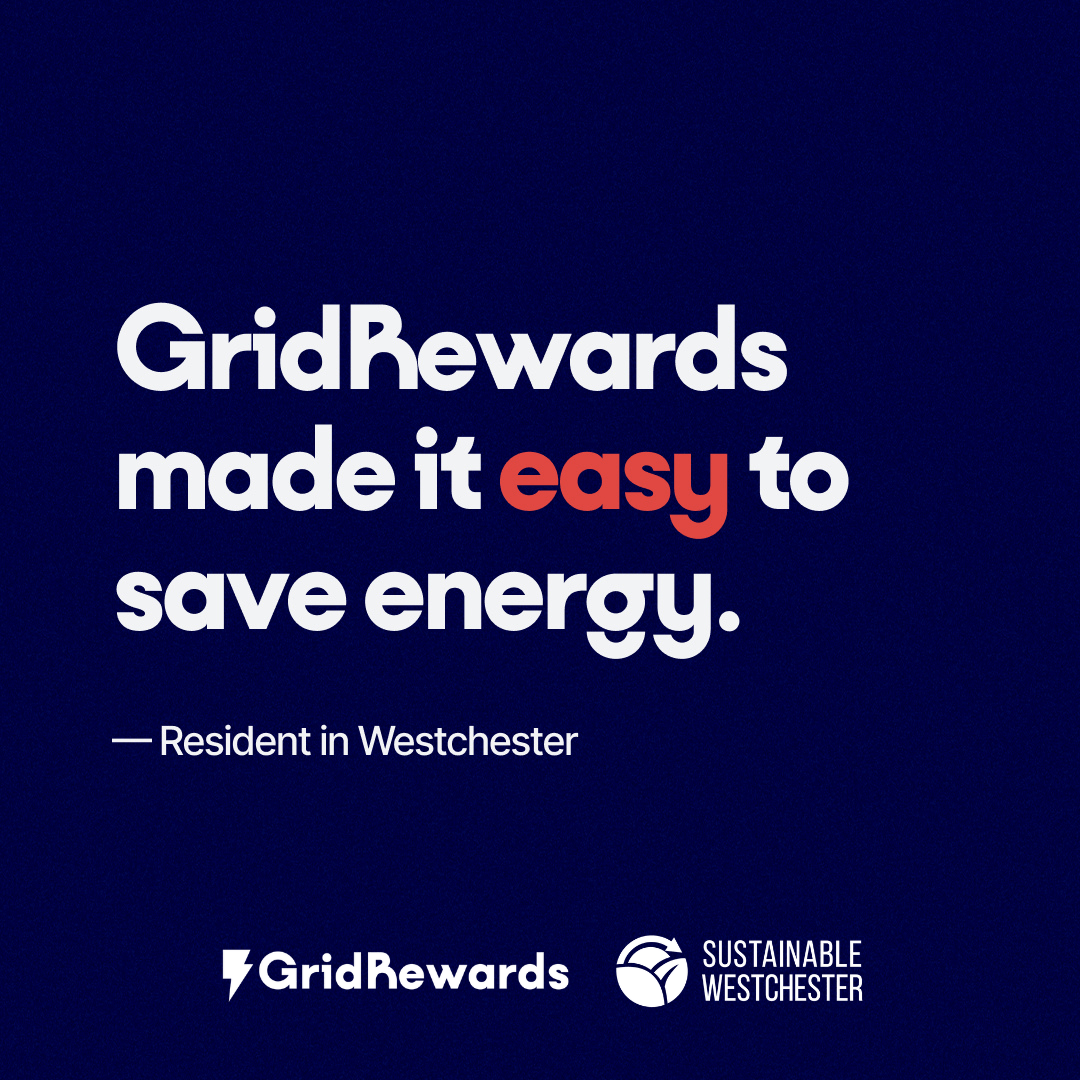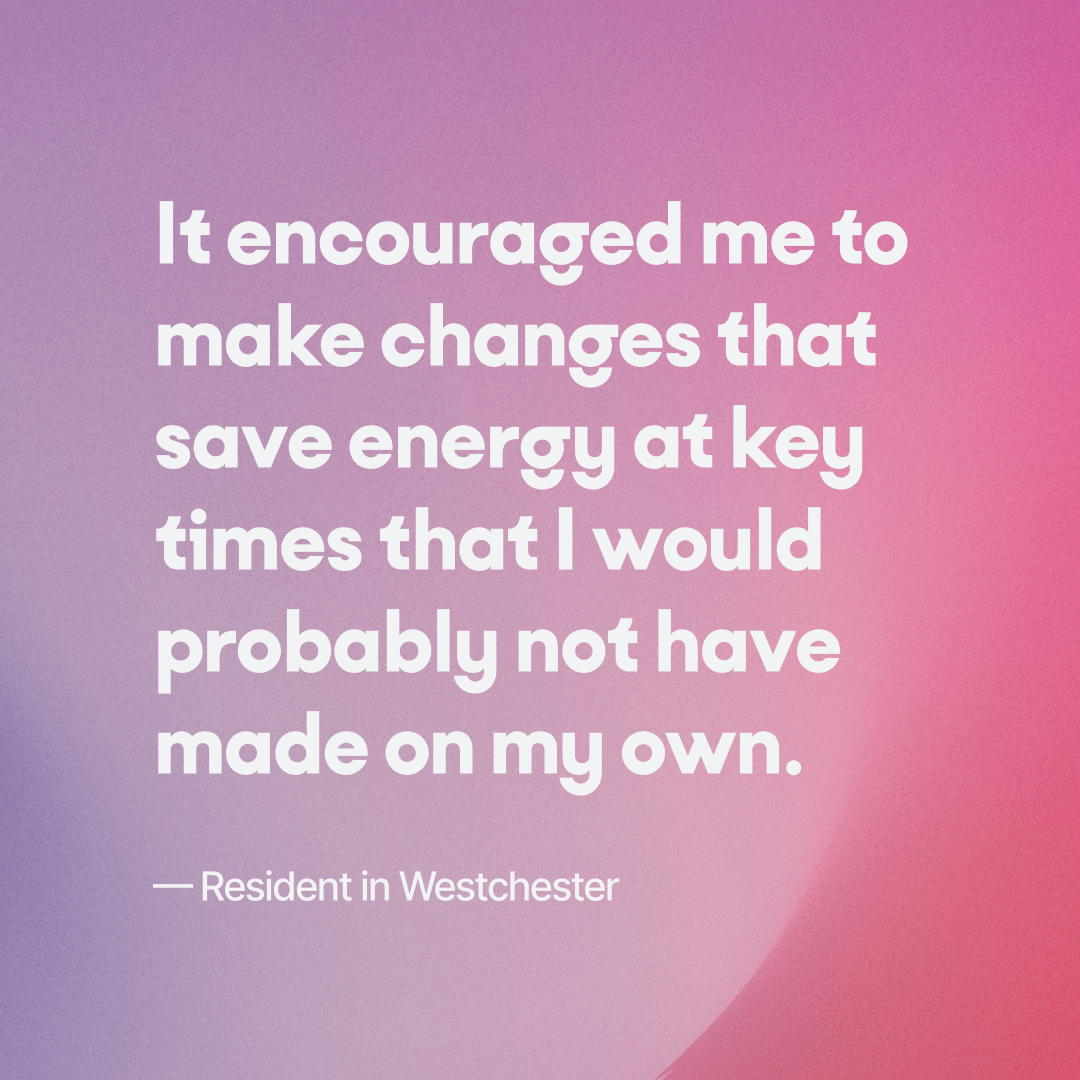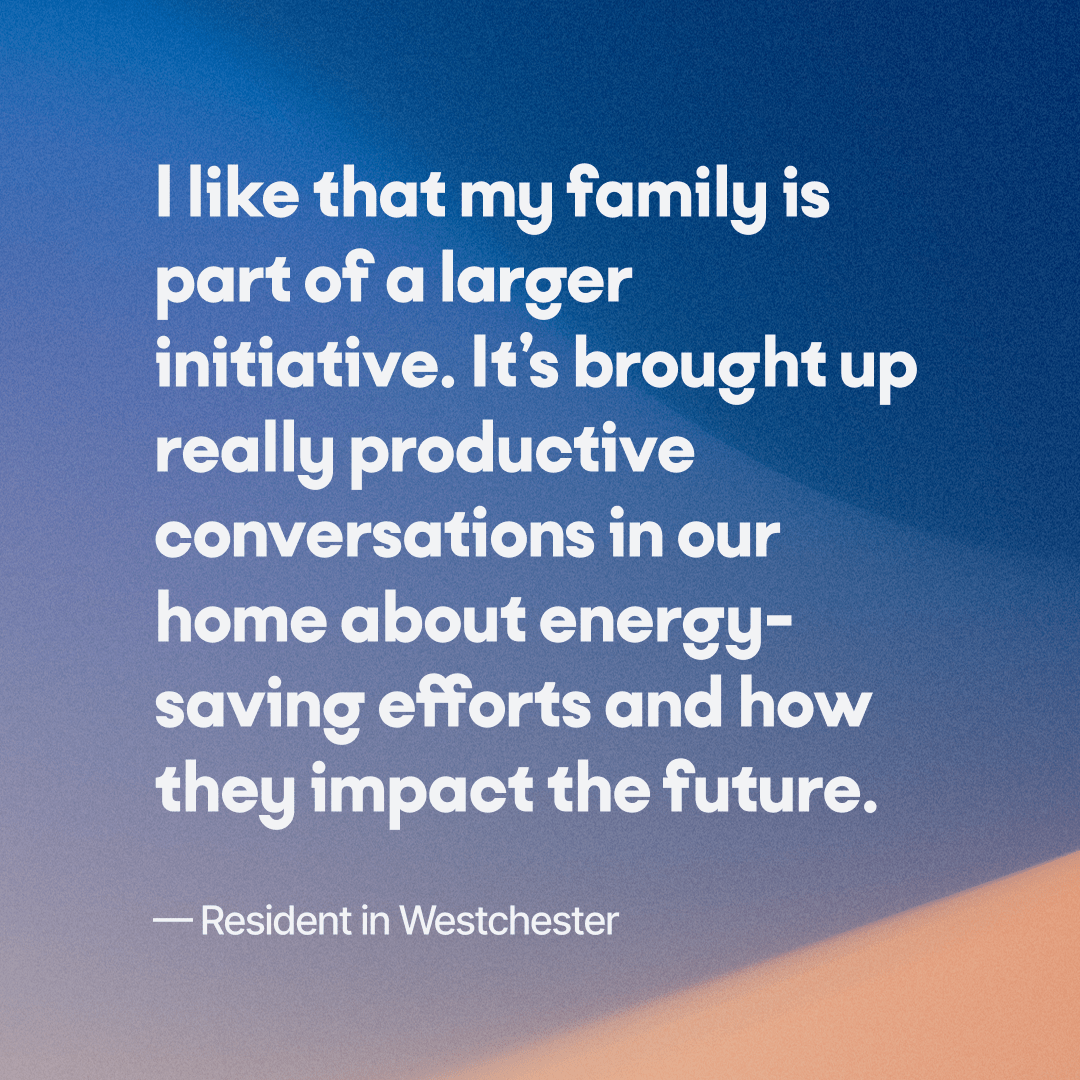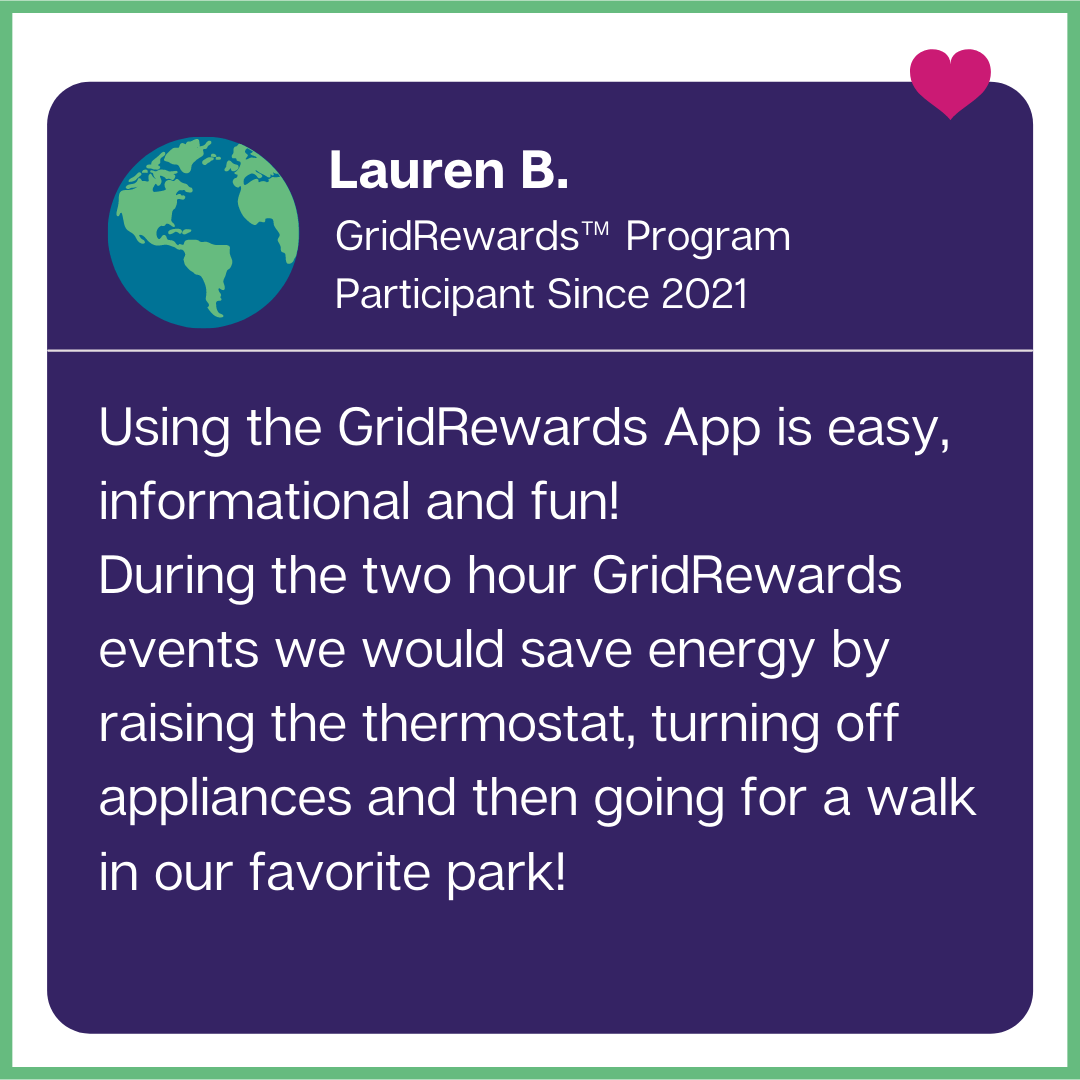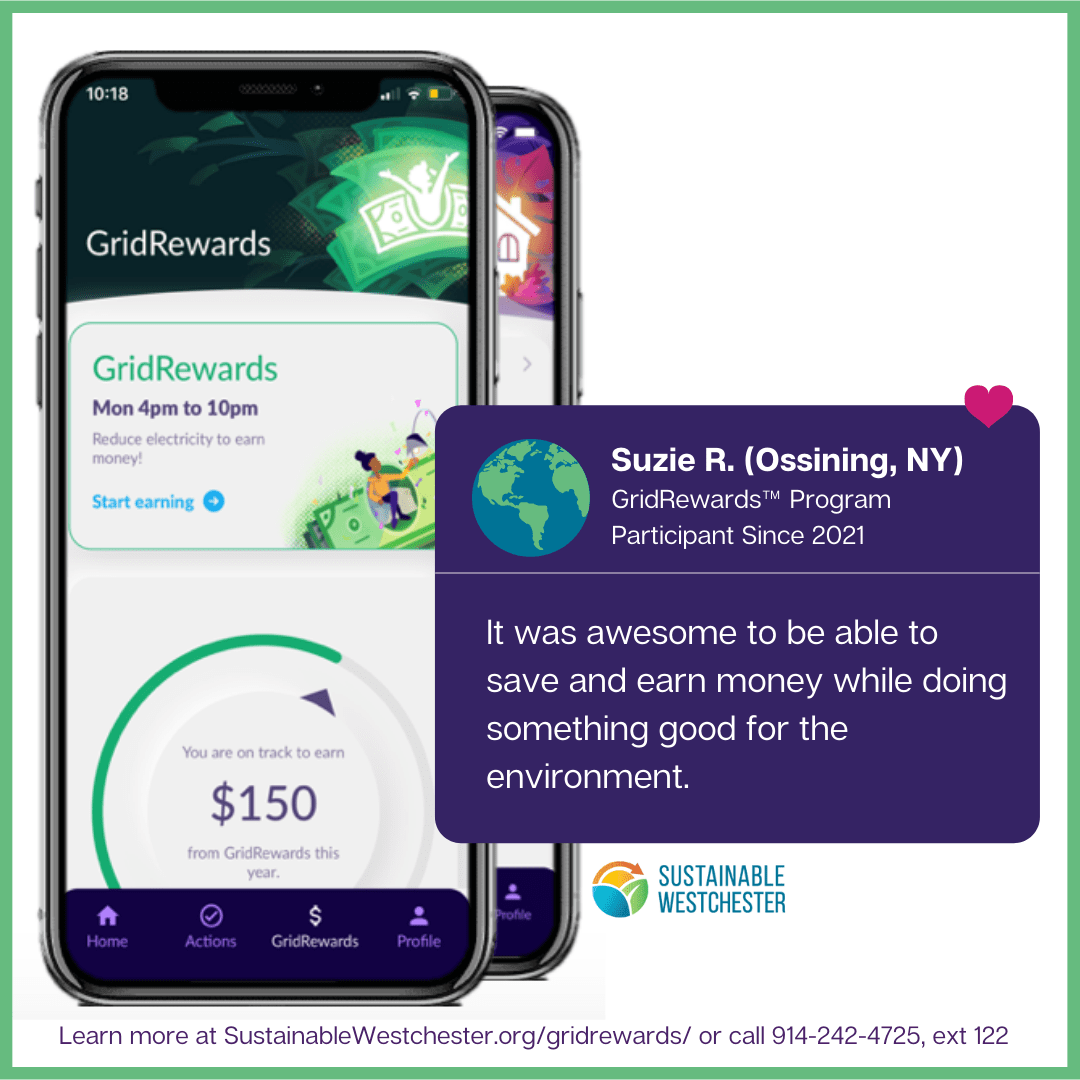 GridRewards & Sustainable Westchester Partnership
Launched in Spring 2021, GridRewards was the first personalized energy/carbon intelligence and revenue-generating software for residential and small commercial energy users, leveraging secure integrations into Con Edison's new Advanced Metering Infrastructure
Core Features:
Grid-Interactive energy revenue-generating opportunities ("GridRewards") for reducing usage at the highest carbon intensity hours
Personalized energy efficiency insights and recommended actions and real electricity, natural gas, and carbon usage tracking and performance data
Smart thermostat control and optimization
Real-time electric grid carbon intensity
Logical Buildings, a energy software developer, has created the GridRewards platform and an app to track usage in close to real time. As an aggregator, Logical Buildings collects revenues from the utility's Demand Response programs and dispenses the majority of the revenues realized through participation in announced Demand Response events to the consumers.
So how does it work? There are a few times during the summer when you can earn cash back by taking simple actions, like raising your AC set points for a couple of hours. GridRewards will notify you when these events occur. While it's good to save electricity year-round, GridRewards events are so important that your utility company is willing to pay you real money to reduce at peak times.
Why? When your utility company needs to meet your region's peak electricity demand, they spin up older, less-efficient power plants that cost more money to maintain and release more carbon into the air per unit of electricity.
Where does the money come from? Con Edison wants to pay you to reduce electricity at peak demand times to reduce stress on the grid and avoid running the most polluting, carbon intense, power plants.
Who's excluded? Participants enrolled in Smart Usage Rewards with Honeywell, Nest or Emerson Smart thermostats are ineligible.
The Impact
In 2022, users in the Sustainable Westchester program had a combined load reduction of 7MW, this is up from an estimated 3.5-4MW in 2021. The 7MW of energy saved by participants in Westchester would be enough to instantaneously power 25,000 homes!
Plus donations will be made to five environmental groups, including Sustainable Westchester!
In 2021, the GridRewards community prevented more than 200 tons of carbon from entering the atmosphere.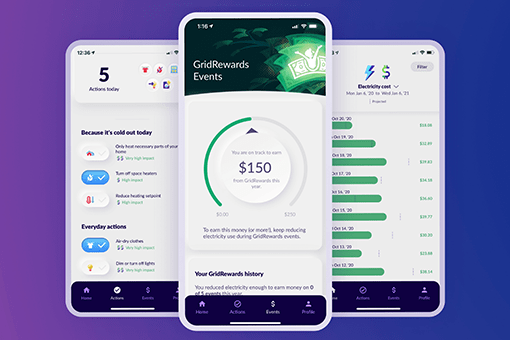 Information for Building Owners, Property Managers and Homeowners Associations
GridRewards App Can Pay Your Business for Lower Energy Usage
Are you a business, nonprofit, campus or house of worship paying a ConEdison utility bill? We have valuable information to share on how to combat record high energy bills in your building. Logical Buildings's GridRewards, a cutting-edge climate tech product that pays residents/tenants/building operators for reducing energy usage and cutting carbon emissions, can help you reduce emissions. Explore the benefits of using the free GridRewards app to manage your organization's daily energy use, including cash rewards and lower monthly utility bills.
Commercial and multifamily properties paying a ConEd bill can participate, as well as municipalities with NYPA power. On average, buildings use 10% less energy and carbon to lower utility costs by approximately 15% with GridRewards.
For a consultation or assistance signing up your commercial property please email Lauren@SustainableWestchester.org
Houses of Worship and Community Groups can Green their Building's Energy Usage + Fundraise!
Sustainable Westchester's GridRewards is a useful tool for Houses of Worship, nonprofits and community groups to both reduce their impact on the environment and to encourage their congregants to get involved in an easy energy action!
GridRewards is a demand response program. It helps to alleviate stress on the energy grid during a handful of times in the summer when the energy grid is at peak demand (and most polluting). Houses of Worship can sign up their buildings or campuses to participate and earn cash by reducing energy at key times. GridRewards will notify you when these events occur. The more participation, the more money that can be earned.
On top of enrolling your buildings in GridRewards, the organization could also promote GridRewards to their congregation as a fundraiser, using the referral code. For each utility account you sign up, the organization would earn $10.
A few religious institutions have been advertising the program and linked here is a sample flyer. We are happy to help get your organization started with GridRewards as this is a true win-win-win for all! Please reach out to Lauren@SustainableWestchester.org for more info!
Rivertowns Mayors Challenge
Rivertown Mayors from Hastings to Sleepy Hollow engage in friendly competition; encouraging residents to sign up for Sustainable Westchester's GridRewards to illustrate the importance of synchronicity when it comes to energy reduction. Challenge takes place now through April 28, 2023.
Click here to see the municipal standings in the competition
The Harms of Peaker Power Plants
"On days with extreme weather, like heat waves or sub-zero temperatures, residents consume more energy to stay cool and warm, which puts excessive demand on the grid. In response to this increased demand in electricity, highly polluting power plants known as "peakers" fire up in the South Bronx, Sunset Park, and other communities of color throughout New York City. These inefficient peakers spew harmful emissions into neighborhoods already overburdened by pollution, exacerbating widespread health problems. Peaker plants are a prime example of how low-income communities and communities of color bear the brunt of a host of energy and industrial infrastructure that poses significant public health and environmental hazards."
The PEAK coalition—UPROSE, THE POINT CDC, New York City Environmental Justice Alliance (NYC-EJA), New York Lawyers for the Public Interest (NYLPI), and Clean Energy Group (CEG)— has come together to end the long-standing pollution burden from power plants on the city's most climate-vulnerable people. This coalition is the first comprehensive effort in the US to reduce the negative and racially disproportionate health impacts of a city's peaker plants by replacing them with renewable energy and storage solutions.
See resources from the Peak Coalition: