Clean Transportation
Project
Clean Transportation
Project
Local Westchester municipalities, businesses, institutions, residents, and students can participate in the Sustainable Westchester electric vehicle (EV) initiative. We can help you navigate the options, sift through available incentives, and determine a path forward that best meets your needs.
EV's can do everything a gas powered car can do. Car lovers take note, EV's are fun to drive, with a 0 to 60 m/h in 3.4 seconds or less. They are virtually silent and coast very easily. Most importantly, they are safe and make a big difference in the environment.
EV's can travel 100 miles on an overnight charge from a standard plug.
The majority of Westchester residents commute less than 30 miles per day.
1 EV displaces 15 barrels of oil per year.
98% of all US trips are under 50 miles.
Cut your car maintenance costs, EV's have 20 moving parts and no oil or transmission fluids while gasoline-fueled cars have 2000 parts.
The price of an EV is dropping approximately 18% per year and sales growth globally climbs 70% per year.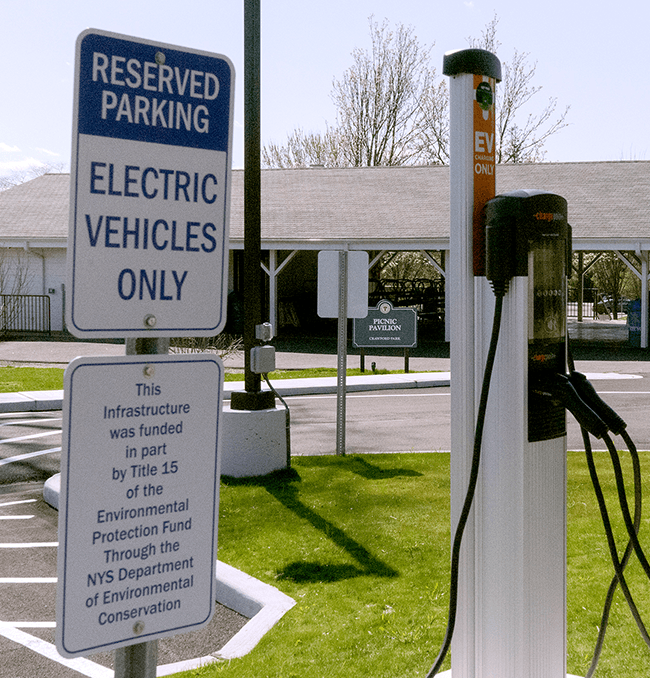 Clean Transportation Project Goals
Reduce municipal fleet fuel & maintenance costs by as much as 25%
Cut municipal transportation Greenhouse Gas (GHG) Emissions
Upgrade municipal fleets with cost-effective, mission compatible electric vehicles
Put municipalities in a leadership role in clean
transportation models
One EV in every garage, create programs to attract drivers while building consciousness & brand loyalty
Add small business educational partners
Take Advantage of Rebates
Sustainable Westchester will help you find your purchase or lease grant and any extra discounts for doing your part to
reduce emissions.
A Positive Charge
Sustainable Westchester has identified opportunities for charging stations to keep EV's charged up and ready to roll.