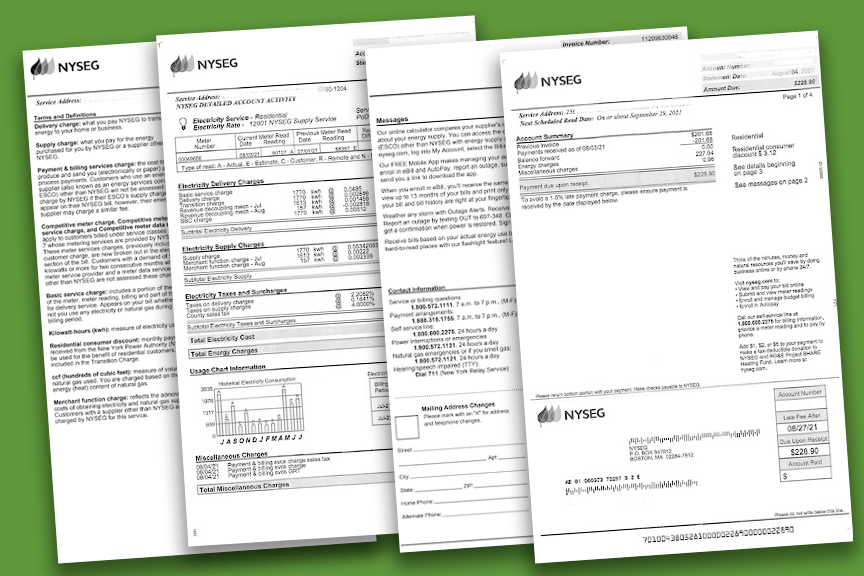 NYSEG without Westchester Power
Click on each hyperlink to see a visual reference.
1. ACCOUNT INFORMATION: Includes the name of the account holder, the account number, the date the bill was produced, and the amount due.
2. ACCOUNT SUMMARY: Shows your past billing (previous invoice), payment activity, current charges, and bill due date. Energy Charges include both Delivery and Supply charges.
3. PAYMENT SLIP: If you are enrolled in Autopay, "AUTOPAY" will show under "Amount Paid". With Autopay, NYSEG will automatically deduct your payment from your checking account 23 days after we mail your bill.
4. BILL MESSAGES: Special bill messages with information specific to your NYSEG service, energy usage and safety tips.
5. CONTACT INFORMATION: How to contact NYSEG and information on where to send correspondence or your payment.
6. MAILING AND AUTOPAY: You can notify NYSEG of a change to your mailing and contact information and enroll in Autopay by completing this form located on the back of your payment stub.
7. SERVICE CHARGE DETAILS: Shows your account information including: Electric Service, Electricity Rate or Rate Class, Service Dates, Point of Delivery ID (PoD ID), Billed Usage, and Type of Read.
Electric Service – Shows the type of customer you are listed as. In many cases it will be residential, but for commercial properties it could say non-residential. Why does it matter? NYSEG determines which class a user falls into and those determine the rate structure.
Electricity Rate or Rate Class – Set depending on your customer type and determines the price you pay per each kilowatt hour (kWh) of electricity delivered to your property.
Service Dates – The dates for which you are being billed.
Point of Delivery ID (PoD ID) – A unique identifier for your account that is used for third-party electric suppliers. The ID is used to identify your account if you opt into a retail electric program or ESCO instead of NYSEG's standard electricity supply.
Billed Usage – Your electric usage is measured in kilowatt hours (kWh), which is a measure of how many kilowatts (1 kilowatt = 1,000 watts) of electricity you used over the period of an hour. The usage for a given bill is based on your meter read period.
Type of read – NYSEG alternates each month between a physical reading of your meter and a projection of what they expect your meter to read that month. These numbers are listed as kilowatt hours (kWh). An "A" is used to signify an Actual or physical reading, and an "E" is used to signify an estimated or projected reading. Discrepancies between actual and estimated readings are adjusted in subsequent bills.
8. DELIVERY CHARGES: This is what you pay NYSEG to deliver electricity to your household or property. It includes charges for reading and maintaining meters, and related taxes and surcharges. Delivery is always provided by the utility. Delivery charges are the same whether you get supply from NYSEG or Westchester Power or from your own ESCO.
9. SUPPLY CHARGES: These are the charges you pay to NYSEG for the Supply of your electricity.
10. ELECTRICITY TAXES AND SURCHARGES: Electricity Taxes and Surcharges
Taxes are assessed and regulated by New York State (and local governments where applicable) and independent of your choice of supplier. Taxes are broken down into: taxes on delivery charges and the county sales tax.
Taxes on delivery charges: Applicable taxes for the delivery of electricity in New York (and local governments where applicable).
County sales tax: County specific sales tax.
11. USAGE CHART INFORMATION: Displays your energy use for the last 12 months, along with the average temperature and daily energy use during the current billing period to the
comparable period last year. On the top of each bar is a letter indicating the type of meter reading – include link to type of read.
12. TERMS AND DEFINITIONS: Descriptions of terms found on your bill can be found here, plus payment information.
13. ENROLLMENT NOTIFICATION: States that you are receiving energy through Westchester Power and provides contact information for Sustainable Westchester